Greater Dover Historical Fund Raiser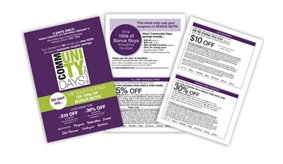 The Greater Dover Historical Society is participating in the Bon Ton Community Days Program. Make a $5.00 dollar donation to the Greater Dover Historical Society and receive over $500 dollars in coupons that can be used at any Bon Ton from November 9th thru the 12th. 501c3 organizations that sell a minimum of 75 books by Saturday November 12th, will be eligible for a bonus check from the Bon Ton.
You can support this fund raising effort in three ways:
-Purchase a book from a GDHS member.
- Sell books for GDHS.
- Order a book on line by going to https://www.communitydayevent.com, select the support organizations tab, select Pa, and York and select find local organizations. Select Greater Dover Historical Society from the list. The book will be sent to you and GDHS will get credit for the book sale.